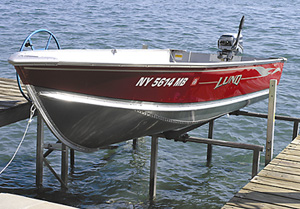 RGC Cantilever Lifts are available in two 1200 lb. and one
2000 lb. capacity models. These lifts are designed to meet your large PWC, small fishing boat and jet boat lifting requirements. Canopies are offered for the PL1200W and PL2000 models.
 FEATURES OF CANTILEVER BOAT LIFTS
Lift frames are constructed of durable marine grade aluminum.
Corrosion resistant stainless steel hardware and cable, as well as polymer sheaves are standard.
30″ Handwheel and Winch can be mounted on either side of lift for your convenience.
Carpeted Bunks support the watercraft's hull.
Pivoting Foot Plates conform to the waterway's floor for secure positioning.
Assembly is easy with basic hand tools.
Many accessories are available.