Need a place to dock your PWC Jet Ski?
The Connect-A-Port™ PWC Drive On adds a safe harbor for your one-, two- or three and 4-place personal watercraft! — just roll off and you are ready to go!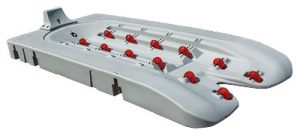 Connect-A-Port XL6
Six foot and more walking surface around the edges
The Connect-A-Port XL6 universal hull design with its adjustable rollers can moved to better match your PWC. Stoltz rollers make it easy to launch and dock – Idle up to dock…roll off to launch.
72" x 156" x 23" (182.88 cm x 396.24 cm x 58.42 cm)
Maximum flotation: 2000 lbs (907.2 kg)
Weight: 375 lbs (170.1 kg)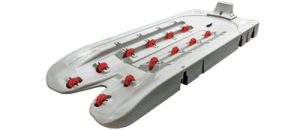 Connect-A-Port XL5
Keep your water fun on an "even keel" with Connect-A-Port XL5 with adjustable rollers!
The Connect-A-Port XL5 is the PWC docking for you, universal hull support makes docking personal watercraft easier.
60" x 156" x 23" (152.4 cm x 396.24 cm x 58.42 cm)
Maximum flotation: 1800 lbs (816.5 kg)
Weight: 320 lbs (145.15 kg)
Connect-A-Port Benefits
One-, Two- or Three and Four – place personal watercraft
Ultra Tough, Polyethylene Construction
Multiple Roller Positions
Patented Bow Stop
Cable & Clip for securing PWC
Anti-skid Walk Area
Universal Hull Support
Front or Side Mounting
5-Year product warranty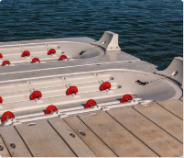 Side-by-Side PWC Kit

The Side-by-Side connection kit for the model connects multiple PWC lifts together by inserting three connectors in the port.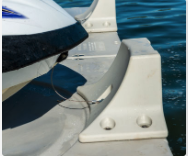 Bow Stop
Add a Bow Stop to tether your Personal Water Craft to the port.  Kit comes with tethering strap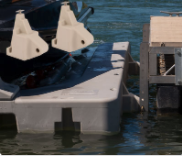 Floating Dock Hinge Kit

When connecting to floating dock with metal or wooden framing floating on tubes use the Floating Dock Hinge Kit.  The hinge bracket can attach to the front or side mounting points on the PWC port (kit contains two hinges)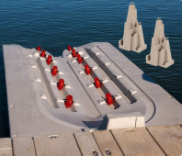 Connect-A-Dock 2000 Series Kit
Connect-A-Dock 2000 Series High Profile dock use this kit for the PWC Port.  The kit can mount to side or front mounting points on the jet ski dock. (kit contains twi SL6 dock connectors)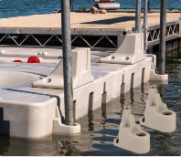 Fixed Dock Kit

When connecting to a fixed dock, use Pole Connectors to glide on 2″ sch 40 pope (not included) as water levels change.  The XL6 pole sleeve brackets can mount to the front or side mounting points on the PWC port.  (Kit contains two XL6 Pole Connectors and two Pole Sleeve Brackets)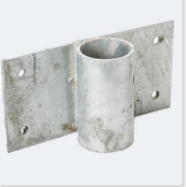 PWC Pole Bracket Sleeve
Use on fixed docks or seawall to hold in place 2″ ID poles for anchoring Not: Use with a fixed dock kit