Inside Corner - 3" I.D. Pipe Holder
(WH-ICP3) Use the Inside Corner – 3″ I.D. Pipe Holder in place of a regular inside corner to accommodate a 2″ I.D. pipe. The 3″ Pipe Holder is welded in place.
(WHP-3) Our 3″ Pipe Holder bolts to a side stringer. Use a 2″ standard pipe to anchor your dock in place.
(WH-CRS) Our Chain Retainer bolts to the side of your dock and uses chain to hold the dock in place. You can use 5/16″, 3/8″ or 1/2″chain. Use either (2) WH-W or (1) B as back up plates. 5″ L x 5″ H.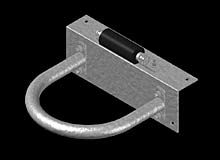 PH-H8 8″ Hoop
PH-H10 10″ Hoop
PH-H12 12″ Hoop
PH-H14 14″ Hoop
PH-H16 16″ Hoop
PH-H18 18″ Hoop
Our convertible Hoop Pile Holders have 3 basic pieces, a deck plate, a hoop and a roller assembly. This allows you to have a hoop pile holder the way you want it, whether it be a permanent hoop, a removable hoop or a hoop with a roller.
All hoops are 1½" schedule 40 pipe. The deck plates are 3 1/2″ x 6 1/2″ x 1/4″ angle. The roller assembly features a 6″ solid rubber roller and can be bolted to the deck plate or directly to the dock.
All parts are hot dipped galvanized.