At Clear Water Docks LLC, we strive to provide the highest quality docks at the lowest possible price. We carry the 1000 series (low profile), 2000 series (high profile), and  personal watercraft (PWC) drive-on docks which are all made by Connect-A-Dock.  Boat / PWC / seaplane lifts and railway systems manufactured by RGC. We are based in Anchorage, Alaska and living in Alaska my whole life, I know the conditions Mother Nature can create and the need to have a quality dock for your possessions. This is why I own and now sell the Connect-A-Dock series. However, there are many customers who prefer a wooden dock and this is why we also carry all the components to build a great wooden dock;  Ace Floats, hot-dipped galvanized hardware, swim ladders, bumpers, cleats, and much more.
Please feel free to send us an email with any questions or comments you may have.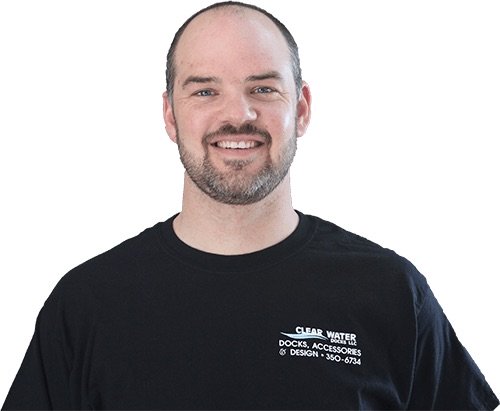 Shawn Clark is a life-long Alaskan.  He has been the general manager of Clear Water Docks since 2011. He is an avid outdoorsman and private pilot during which he has encountered many questionable docks in the last 15 years of flying.  Shawn earned his diploma from Robert Service High School and had previously worked at Costco Wholesale for 20 years where he met his wonderful wife and now has two great children, Chase and Piper. When Shawn is not working he loves to spending time with his family, weekends at their cabin and traveling around the state.
Fill out the following form and click the Send Button and we will contact you with a estimate.