Aluminum Vertical Boat Lift​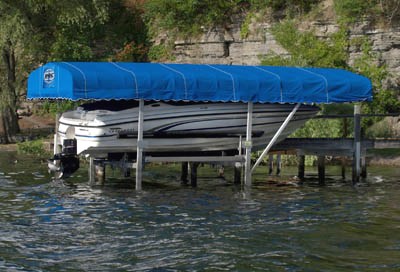 RGC Vertical Lifts have an open structural design that allows easy access to your boat from both sides of the lift while the boat is in the water. VL platforms are designed to descend lower and lift higher than the competitions'. This versatile range allows the same lift to be used for both shallow and deep water applications, as well as in areas with fluctuating water levels. And with lifting capacities ranging from 1250 lbs. to 10,000 lbs., RGC offers a model to accommodate most lifting requirements.
FEATURES OF ALUMINUM VERTICAL BOAT LIFTS
VL lifts are available with capacities of 1250 lbs. to 10,000 lbs., lifting heights of 66 in. to 80 in. and various widths depending on model.
The R18LT and R18HD patented winches reduce operator effort and increase cable life.
Lifts frames are constructed of durable marine grade aluminum.
Stainless steel hardware and cables are standard equipment. Silicone bronze nuts on mounting hardware provide easier adjustability.
Heavy duty polymer sheaves prolong cable life.
Pivoting foot plates conform to the waterway's floor for secure positioning.
Assembly and installation are easy and require only basic hand tools.
15-year limited warranty on aluminum structure
Many accessories are available.